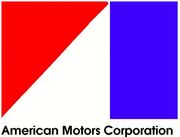 American Motors Corporation (AMC) was an American automobile company formed on January 14, 1954 by the merger of the Nash-Kelvinator Corporation and the Hudson Motor Car Company. At the time, it was the largest corporate merger in U.S. history, valued at $198,000,000. Declining sales and a fiercely competitive auto market in the United States forced AMC to seek a partner in the late 1970s, which led to a tie-up with France's Renault in 1979. The arrangement lasted until March 2, 1987, when American Motors was purchased by the Chrysler Corporation, which discontinued the use of AMC and Renault brand names in the United States. The Jeep line was continued, as well as some of the models under the Eagle marque.
Ad blocker interference detected!
Wikia is a free-to-use site that makes money from advertising. We have a modified experience for viewers using ad blockers

Wikia is not accessible if you've made further modifications. Remove the custom ad blocker rule(s) and the page will load as expected.